Prepare to Be
Great
Have you ever had motivation and then lost it? Or have gotten results only to loose those good results?
You are not alone.
At Motivators, we understand the biggest challenge is not what exercises to do or even what food to eat. It's the motivation to do and the accountability to keep doing it. The biggest challenge is ourselves. When you established your goals and set out to achieve them, you were at your best. Then life got in the way. Disruptions and chaos came. You lost focus.
Motivators get you back to your best.
We believe in coaching, we believe in personal development, we believe that you don't want mediocrity, but greatness.
Get Motivated
For Fitness!
My name is Daniel Aleksa and I'm a local fitness expert. Along with my wife Kathryn, we own Motivators Personal Training. Have you ever struggled getting motivated for fitness? Ever had it, then lost it? The problem is that when motivation is lost, your accountability to yourself, the momentum you've built, and the focus on your goals is lost too. Months and even years can go by and you're in the same position. We have a solution for you!
At Motivators Personal Training, we understand the real challenge our clients face is not what exercises to do and what foods to eat, but it's the motivation to do it and the accountability to keep doing it. The biggest challenge is ourselves. That's how we help our clients achieve uncommon success in their personal journeys and why our fitness, nutrition and coaching programs are so successful! Getting you in the best shape of your life is the easy part…our work REALLY begins when we coach you on how to stay that way. We're thrilled to show you how!
Daniel and Kathryn Aleksa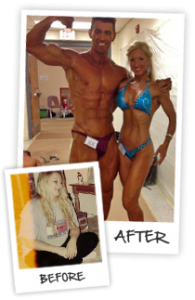 have 27 years of combined experience in training clients for a body transformation, athletic competition, weddings, pregnancy, post-pregnancy and more. They work with all body types, fitness levels, and injuries. Together they have developed their famous SYNERGY style group sessions geared for twice the results in half the time.
3-WEEK AT HOME
FAT LOSS COURSE
It couldn't be any easier! In the comfort of your own home and with minimal equipment, learn how to shape, sculpt & tone you body with this done-for-you workout & nutrition program. 
FED UP WITH EXCESS

WEIGHT AND POOR HEALTH?
Want to lose 20-40 pounds so you can finally through away your fat clothes for good? For the first time, we are sharing the same proven technique our successful clients are using on this free report and CD. 
FREE Report & CD
that reveals "How to Stick with a Fitness Program that Gets Real Results"
Lose 20-40 lbs
Learn how to eat right and look forward to working out